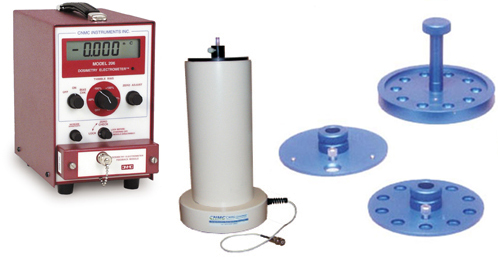 Brachytherapy QA
Please click the product you want to learn more about:
i. Well Chambers
ii. Electrometers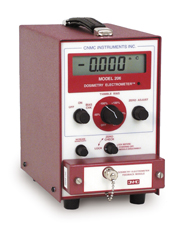 Brachytherapy Electrometer
The CNMC Model 206 Electrometer, with its innovative modular design, can be set up with an appropriate input feedback module to accurately measure a wide range of current output from any well chamber.  LDR sources as low as 0.1mCi of Iodine-125 can be measured with a 4-digit accuracy.  10Ci Iridium-192 HDR sources can be measured in charge or current mode.
One removable feedback module optimized for LDR or HDR is supplied with Model 206.  Additional input modules may be purchased to suit other applications.  The 200nC module can be added to economically extend electrometer use to calibration of teletherapy machines.  The extra input modules can be stored conveniently in the compartment located in the rear panel of the Model 206 when not in use.
Because most well chambers exhibit high capacitance, use of an external 300V bias battery is recommended to assure stability of LDR measurements.  This battery can be stored in the rear panel compartment of the Model 206.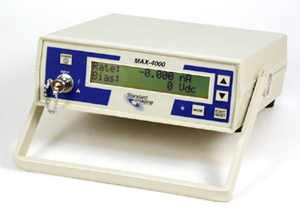 Brachytherapy Electrometer
Exceptional sensitivity and a wide dynamic range makes the MAX-4000 electrometer a good choice for brachytherapy measurements.  In rate mode it provides immediate measurement of even the lowest activity isotopes.  For example, a 0.27mCi iodine seed, measured in the HDR1000+ well chamber, gives a signal of 1.458pA.  The MAX-4000 can measure 10Ci and higher iridium sources in rate mode or integrate mode over time.
The built-in countdown timer can be preset in 15 second increments up to 600 seconds.  A few buttons control all operations.  Zeroing is automatic; press a button and you are ready to measure.  A digital filter built into the MAX-4000 eliminates the effect of noise resulting in a very stable and exact measurement.
The MAX-4000 is versatile enough to be used for all external beam applications, using Farmer-type ion chambers, chambers typically used for data acquisition in water phantoms and chambers used for quality assurance tests.
The MAX-4000 is designed to exceed AAPM, ADCL and reference-grade instrument stated specifications in many areas, including reproducibility, resolution, linearity, long-term stability and repeatable measurement accuracy.
iii. Brachytherapy Accessories QA
iv. Ultrasound Phantoms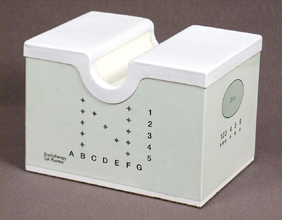 Brachytherapy QA Phantom
The Model US-45 ultrasound phantom, unlike human subjects or random scanable materials, offers specific, known test objects for repeatable qualitative assessment of ultrasound scanner performance over time.
The US-45 was designed for transrectal ultrasound QA and calibration of brachytherapy systems.  It contains targets to assess volume measurements, internal and external grid accuracy, and probe retraction accuracy.  When scanning towards the top of the phantom, a partial grid of wires appears.  These wires should line up with the grid that appears on your screen, thus ensuring correct vertical and horizontal distance measurements.
Five cross wires are embedded within the phantom to determine if the probe is being retracted the specified distance.  Turn the probe 60 degrees to the right or left to visualize and measure the volume of three different calibrated objects, one of which is non-spherical.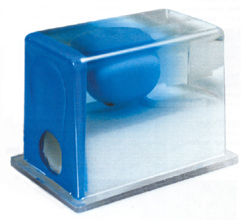 Ultrasound Prostate Phantom
The Model US-53 Ultrasound Prostate Training Phantom is a disposable phantom developed for practicing procedures which involve scanning the prostate with a rectal probe.
The prostate, along with structures simulating the rectal wall, seminal vesicles and urethra, is contained within an 11.5cm x 7cm x 9.5cm clear acrylic container.  A 3mm simulated perineal membrane enables various probes and surgical tools to be inserted into the prostate.
This phantom is an ideal training device for ultrasound guided cryosurgery, radioactive seed implantation and needle biopsy.