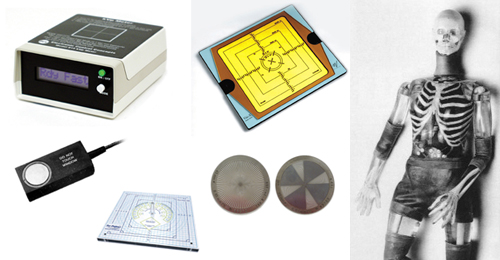 Radiology QA & Dosimetry
Please click the product you want to learn more about:
Diagnostic Radiology
i. Beam Measurement
ii. Diagnostic Ion Chambers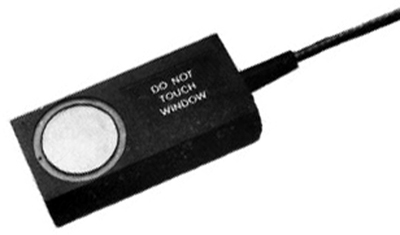 Soft X-Ray Ionization Chamber
The Model N23344 soft X-ray ionization chamber is similar in design to the Model N23342 but featuring a volume that is ten times greater.  It is intended for dose measurements in mammography and skin therapy.  It can be used in air or in solid phantoms.
The acrylic chamber body has back-scatter properties similar to skin, and the thin window permits accurate measurements of soft X-ray radiation.  The energy response is exceptionally flat over the 10keV to 30keV range.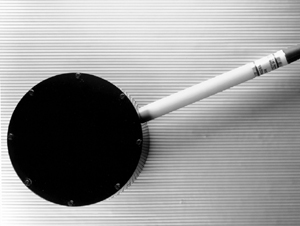 Scatter Dose Probe
The Model 6000-532B Scatter Dose Probe consists of a plane-parallel ionization chamber with a volume of 400cc and a frontal area of 100cm².  The primary purpose of the probe is to measure X-ray leakage and scatter in diagnostic X-ray facilities.
The Model 6000-532B is intended to be used with the NERO®mAx beam analyzer.  It may also be used with Models 4000+, 4000M+ or the RAD-CHECK® PLUS using the appropriate sensitivity correction factor.  The large chamber volume of 400cc delivers a strong 0.133nC per mR.
CNMC can supply an appropriate connector and/or adaptor to make the Model 6000-532B compatible with any high-grade, commercially available, charge-reading dosimetry electrometer.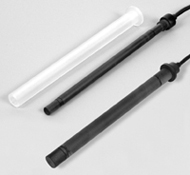 CT Dose Probes
The intended use of these probes, with the appropriate phantom, is to measure exposure produced by Computed Tomography (CT) scanners.
Model 6000-100 CT Dose Probe consists of a pencil-type ionization chamber with a sensitive length of 10cm and an active volume of 3.2cm³.
Model 6000-200 CT Dose Probe consists of a pencil-type ionization chamber with a sensitive length of 10cm and an active volume of 10cm³.  This larger active volume greatly improves signal strength to over three times that of a typical 3cm³ CT probe.  The outside diameter of the 6000-200 chamber is 12.7mm in diameter, requiring no adapter to fit into existing CT dose phantoms.
Both probes feature a 0.9 meter flexible, low-noise cable which is terminated in a male BNC coaxial connector for signal and a banana plug for bias.  A triaxial BNC or TNC termination is available on request.
The 6000-100 and 6000-200 CT Dose Probes are designed specifically to read out on the Cardinal Health Model 8000 NERO®mAx X-ray beam analyzer, but with an appropriate connector or adapter, it can be used with any high-quality dosimetry electrometer.  When the 6000-100 and 6000-200 are used with the Model 4000+ and 4000M+ X-ray beam analyzers, or the RAD-CHECK® PLUS, appropriate correction factors must be applied.
Model 007, CT Dose Phantom Set
The CT dose phantoms were designed in accordance with the Food and Drug Administration's performance standards for diagnostic X-ray systems, which include regulations specifically applicable to CT systems (21CFR1020.33).
iii. Film QA
iv. Nuclear Medicine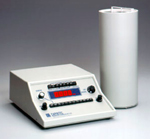 Nuclear Medicine Dose Calibrator
The Model CRC®-127R now replaces the CRC®-7(R) and CRC®-12(R) by combining the best features of both of these units into a new package.  The CRC®-127R continues the tradition of outstanding performance characteristics and a worldwide reputation for excellence for which Capintec dose calibrators are known.
By incorporating the speed of the CRC®-7 and the Becquerel/Curie conversion plus auto-ranging functions of the CRC®-12, the CRC®-127R provides simplicity of operation to meet your needs.
The CRC®-127R provides eight preset calibration settings for the most commonly used radionuclides: Tc-99m, Tl-201, In-111, Ga-67, I-131, I-123, Xe-133 and Moly assay.  The CRC®-127R allows calibration settings for more than 200 other nuclides.  Precision potentiometer dials in calibration settings for any radionuclide.  The bias battery used in the CRC®-127R offers stability when the current in your lab does not.  The battery has a nominal 10 year life.
The CRC®-127R is the lowest-priced dose calibrator from Capintec and offers the longest warranty of any dose calibrator sold.
Nuclear Medicine Dose Calibrator
The Model CRC®-15R is Capintec's most popular dose calibrator, and for a good reason.  Taking advantage of the latest technology, the CRC®-15R is an autoranging dose calibrator, giving you added speed, accuracy and easy-to-use features.  There are nine preset nuclide keys plus five user-defined keys that may be preset to any nuclide you require.  The advanced system also allows selection of over 86 different nuclides through the alphanumeric keys by simply entering the nuclide name and number and pressing ENTER.
For generator users, the CRC®-15R automatically calculates the Moly-99/Tc-99m ratio.  An optional printer provides syringe/vial peel-off labels that show Tc-99m activity, Moly-99/Tc-99m ratio and total molybdenum content.  Full-size pages are printed of QC tests to satisfy state and NRC regulations.
For unit dose users, the speed of the CRC®-15R reduces time spent waiting for the final check before patient administration.  The large backlit screen always identifies which nuclide is being counted. No more guessing which nuclide button is activated.
CRC®-15R is also the smallest available dose calibrator.  Its screen design allows viewing with the unit placed vertically on the shelf or wall-mounted.  With the easy TEST section, you are stepped through automatic background and zero adjustments as well as accuracy, constancy and system testing.
v. Phantoms
v. Test Tools
vi. Ultrasound
Model 040 General Purpose Multi-Tissue Ultrasound Phantom
The Model 040 offers a reliable medium which contains specific, known test objects for repeatable qualitative assessment of ultrasound scanner performance over time.
This phantom is constructed from the patented, solid elastic material, Zerdine®.  Zerdine® is not affected by changes in temperature.  Zerdine® allows more pressure to be applied to the scanning surface without subsequent damage to the material.  At normal room temperature, Zerdine® will accurately simulate the ultrasound characteristics found in human liver tissue.  The Phantom includes detachable scanning wells to accommodate large sector probes and endocavity probes and a rugged carrying case.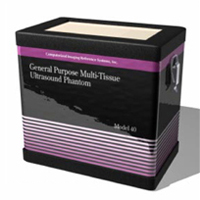 Model 042 General Purpose Urethane Ultrasound Phantom
The Model 042 enables repeatable, qualitative assessment of ultrasound scanner performance over time.
The Model 042 Axial Resolution Target is constructed from a proprietary urethane matrix, housed within a rigid PVC container with three separate scanning windows.  It allows for depth of penetration, uniformity, distance calibration, resolution and lesion detectability assessment.  The Model 042 is sold with a three-year warranty.  This phantom includes an in-house certification traceable to NIST, user's manual, ultrasound physics textbook and a carrying case.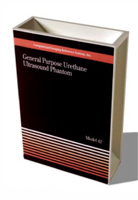 X-Ray Equipment QA
The DIDO2000 Series diagnostic dosemeters cover all fields of X-ray applications.  No matter if conventional or digital modality, the meters can be used for measurements in Radiography, (Pulsed) Fluoroscopy, DSA, Dental, 3D (CBCT), and Mammography.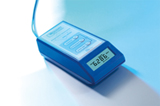 The Nonius is an easy-to-use but very sophisticated measuring instrument to verify size and quality of X-ray fields.  It can also be used to analyse the properties of fanned X-ray beams.