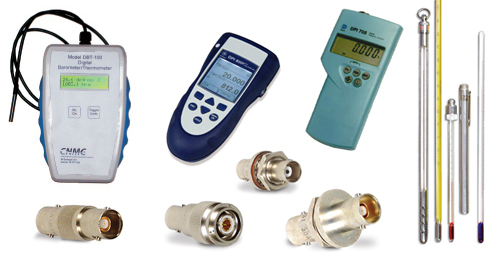 Physics Accessories
Please click the product you want to learn more about:
Barometers
Thermometers
Measuring Tools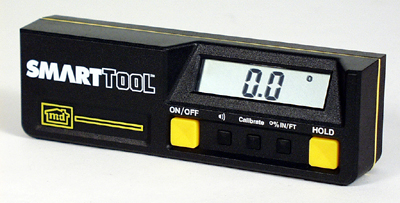 Model 200 Digital Level
Measures all angles in degrees, slope in % and pitch in in/ft.  A beeper may be activated to assist in finding level or plumb without referring to the display.  The unit powers down automatically after 5 minutes of inactivity.  Factory perfect accuracy can be maintained in the field in seconds by a simple "end-for-end" calibration procedure on level surface, overhead or plumb.
Model 631 Digital Vernier Caliper
Performs inside/outside depth and thickness measurements, deviation from reference, plug and hole comparison, all with the precision of a digital display in millimeters or inches.  Comes with a protective storage case.
Model SW-1, SW-2 Digital Stop Watch
Hand-held digital timepieces with a stop watch function feature digital precision, 24-hour timing range and a calendar.  As a stop watch they provide single action, time-in and time-out, cumulative split and continuous timing.  Additional feature of the SW-2 is a countdown function, with presettable periods from 1 second to 10 hours.  As a timepiece they provide time of day, date, alarm and hourly chime. Supplied with lanyard and instructions.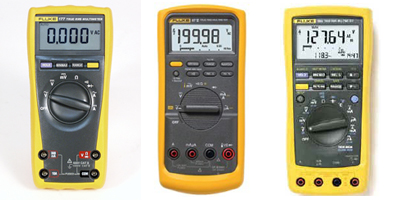 FLUKE 177
With the Automatic Touch Hold® function, the FLUKE 177 automatically captures a measurement, beeps and locks it in the display until you are ready to view it.  The high-resolution, 6000 count digital display includes a 33-segment bar graph that reacts 10 times faster than the numerical display.  The fast auto-range feature automatically selects the range with the greatest accuracy and resolution and Range Hold locks in specified ranges.  Polarity selection is automatic.  Sleep Mode powers down the display for battery saving and all inputs are protected.  An audible tone indicates continuity and diode polarity.  Includes a pair of safety-designed right angle test leads, operator's manual and 9V battery.
Model 87, Series V
Designed for electronic as well as industrial applications, the Model 87 is a versatile analog/digital multimeter featuring an impressive range of capabilities, including true rms, frequency of 0.5Hz to 200kHz, duty cycle from 0.0% to 99.9%, capacitance from 10pF to 9,999µF and temperature reading.  Min-Max Average recording mode stores highest, lowest and average of all readings.  Input Alert detects wrong input jack connections, and Auto Hold automatically captures the measurements.  The backlit display offers 4½ digits, 19,999 count high resolution mode, and 1ms Peak Hold.  It comes with a yellow protective holster, Flex-Stand, test leads, 9V battery and manual.
Model 289
The Model 289 is a microcomputer-based, hand-held DMM combining very precise measurement capability and a number of unique features.  The 4½-digit resolution, wide bandwidth and exceptional accuracy makes the Model 289 a superior measuring tool.  True-rms measurements yield accurate results on non-sinusoidal waveforms as well as sinewaves.  When measuring ohms, the microcomputer lets you automatically subtract lead resistance.  Low battery and overload conditions are indicated on the display.  The meter comes with TL70 test leads, 9V battery, operator's manual and a spare fuse and includes a two-level backlight.
Cables & Reels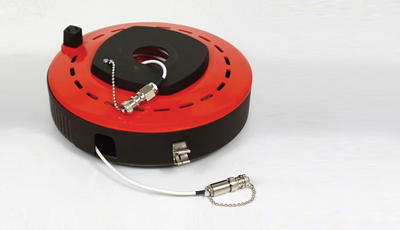 CNMC supplies triaxial and coaxial extension cable assemblies in standard 10-meter or custom lengths, terminated with connectors to fit almost any commercially available electrometer/dosimeter and ion chamber.  The CNMC triaxial cable assemblies are made of flexible, white, 3mm diameter, shielded, low-noise, high-impedance, radiation-resistant cable, designed to carry the extremely small currents generated by ion chambers without signal degradation.
Optionally, CNMC can supply the Suhner Swiss grey, 5.34mm diameter triaxial cable found on Nuclear Enterprise Ion Chambers.  Extension cable assemblies can be made to custom lengths in 1 meter increments.  A true extension cable will have a male connector on one end to mate with the electrometer input and a female connector on the other end to mate with the ion chamber output connector.  Other configurations are possible, such as male/male to accommodate the Memorial parallel plate ion chamber, or female/female bulkhead-type connectors for through-the-wall mounting.  Additionally, a wide selection of adapters offers virtually unlimited connector arrangements.

Our Robust Triaxial Ion Chamber Extension Cable is custom manufactured for CNMC specifi cally for its very low noise characteristics and its durability.
This cable is ideally suited for rigorous day-to-day use.  It has a thicker outer insulation layer that makes it less susceptible to cable failures due to mechanical stress from snaking through wall conduit, being stepped on, pinched under a door, or run over by tool carts.
In addition, there is a thicker insulation layer between the center conductor of the cable and the inner shield.  This greatly reduces the effects of inherent cable capacitance, thereby minimizing the effects of internal signal loss and minimizing the effects of extraneous environmental signals.
Robust Triaxial Extension cables are supplied in standard 10-meter lengths and can be custom terminated with connectors to fit almost any commercially available electrometer and ion chamber.  Extension cables greater than 10 meters are available, as are custom cable lengths in 1-meter increments.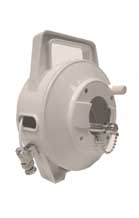 CNMC cable reel assemblies offer a great convenience in winding and storage of extension cables.  A cable reel will extend the life of a cable significantly by eliminating kinks and providing protection during storage.  Only as much cable as needed has be reeled out at any time.
A cable reel will accommodate one white Microdot extension cable up to 15 meters in length or two white Microdot extension cables up to 12 meters each.  Either gender may be specified at the hub, depending on whether the cable reel will be kept at the electrometer (male connector at the hub) or inside the treatment room (female connector at the hub).
Chamber Support Stands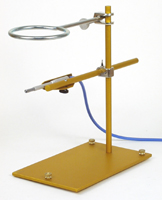 Model AL-CSS Chamber Support Stand
This ion chamber support stand has been designed to accommodate a wide variety of chambers for in-air measurements.  It is completely collapsible to take up a minimum amount of space inside a carrying case for convenient transportation and storage.
The quick-release clamps allow fast setup and easy adjustment of the ion chamber position relative to the radiation beam.  The sturdy aluminum base provides excellent stability and has adjustable feet to allow leveling on uneven surfaces.
Model AL-CSS+
Identical to the Model AL-CSS, with an additional support arm with large ring for holding HVL absorbers.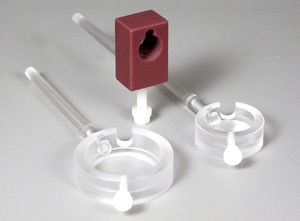 CH-1 Markus®-type Chamber Holder
Made from acrylic, this chamber holder is designed to accommodate a Markus®-type plane-parallel ion chamber including models N23343, N34045 and PPC05 securely.  The 7mm diameter, 10cm long acrylic stem fits clamps designed to hold waterproof chambers.  The acrylic cup has an inside diameter of 3cm, and the chamber is secured with a nylon set screw.
CH-2 Roos®-type Chamber Holder
This acrylic chamber holder is similar to the CH-1 but with dimensions to accommodate a Roos®-type plane-parallel ion chamber including N34001 and PPC40.  The acrylic cup has an inside diameter of 4.4cm and has no bottom.
CH-5 Cylindrical Chamber Holder
This chamber holder is made of water-equivalent plastic and is designed to securely hold cylindrical chambers with diameters from 7mm to 16mm.  The CH-5 has an acrylic stem with a diameter of 7mm and a length of 10cm.  It accomodates most waterproofing kits for Farmer-type chambers.
CH-7 Diode Holder
The CH-7 is made to securely hold Wellhofer scanning diodes with a stem diameter of 4mm in a vertical position.  The diode holder is made of water-equivalent plastic.
Markus® and Roos® are registered trademarks of PTW Freiburg and PTW New York.