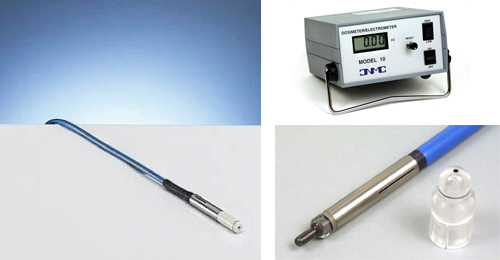 Radiation Physics
Please click the product you want to learn more about:
Electrometers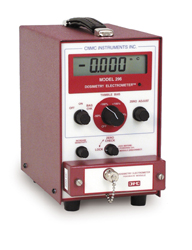 Dosimetry Electrometers
The Model N23343 Markus® plane-parallel ionization chamber is designed specifically for the dosimetry of electrons with energies above 100keV, according to the Bragg-Gray principle.  It is suitable for measurements in either solid or water phantoms.
The chamber consists of a cylindrical acrylic body whose measuring volume is flush to the surface to permit dose measurements at very small depths.  The entrance window is made of polyethylene (2.5mg/cm²) with a graphite conductive coating.  The ion collector is graphite-coated acrylic and is provided with a guard ring that rests at ground potential.  The low collector volume minimizes polarity effects and electrostatic charge.  The chamber is vented to the atmosphere and equilibrates through the aperture in the window ring.  The design provides for energy independence and high spatial resolution, and minimizes polarity and perturbation effects.
The Model N23343 includes a 0.87mm thick acrylic protective cap for use in a water phantom, a spacer ring for use in a solid phantom and an acrylic build-up disc.  For measurements in water phantoms, equilibration may be achieved by taking the protective cap off briefly just before the measurement is taken.
The CNMC Model 206 dosimetry electrometer maintains the simplicity of classic electrometer styling while utilizing contemporary design and state-of-the-art electronics.  The Model 206 is simple to operate.  All controls are located on the front panel.  The nomenclature is clear and concise.  The value is displayed in easy-to-read 0.7-inch digits.  A tilt bail is provided for optional viewing angles.  The Model 206 has a broad range of operation and can accommodate any size of ion chamber.  The versatility of the Model 206 stems from its innovative modular design.  The amplifier feedback element is contained in an external module.  This module is removable and can be exchanged with any number of modules.  Each module changes the measurement features of the electrometer.  In this way, a single electrometer can be configured to satisfy a wide range of applications.  By pairing an ion chamber with a specific module, full calibration of all chambers on a single electrometer can be achieved.
The Model 206 is designed for long term reliability.  Leakage currents as low as 1fA are achieved by the selection of special components and the implementation of proprietary production techniques.  All feedback elements are extensively evaluated to insure long-term stability.  Standard "D" cell batteries provide both 1000 hours of continuous operation and around-the-clock power to the electrometer circuit.  The instrument chassis and case employ the simplicity of classic electrometer styling, yet are rugged enough to protect the delicate system within.  This combination of simplicity and versatility makes the Model 206 one of the most economical electrometers on the market today.
Removable Feedback Modules
A standard 200nC feedback module with a triaxial BNC connector, optimized for beam calibrations with a 0.6cc Farmer-type ionization chamber, is supplied with each Model 206 electrometer.  It allows the Model 206 to provide readings of 00.01 to 199.99nC in high, 0.001 to 19.999nC in medium, and 0.0001 to 1.9999nC in low range, making it usable with chamber volumes 100 times smaller than 0.6cc for comparable exposures.  The standard module may be substituted with another module at no additional cost, or additional extra-cost feedback modules may be added to suit multiple applications.  The following table lists optional feedback modules.  Triaxial BNC input connector is standard. TNC is available on request.
Dosimetry Electrometers
The CNMC Model 10 Dosimeter / Electrometer offers accuracy, precision and repeatability combined with unparalleled economy.  It is designed for radiation measurements in both diagnostic radiology and radiation therapy and it meets the need for all QA constancy checks and most calibrations.
The Model 10 has a dual range and units are preset at the factory to suit the individual application.  The Model 10 is simple to operate, the control nomenclature is clear and concise, the values are displayed in easy-to-read 0.5 inch digits and a tilt bail is provided for optional viewing angles.  It features an internal static bias supply with half bias switch and operates on one easily obtainable 9-volt battery.
The combination of compact design, light weight and simplicity makes the Model 10 the most economical dosimeter/ electrometer on the market today, meaning the user only pays for those features necessary to meet the application requirements.
When combined with the Model 505A, a rugged ion chamber assembly, the Model 10 becomes an economical device for performing daily beam output constancy checks.
As such, it possesses significant advantages over single-piece devices: the electrometer part suffers no radiation damage, radiation values may be read from outside the treatment room and the electrometer itself can be diverted to other uses or simply kept on hand as a back-up electrometer.
Plane Parallel Ionization Chambers
Thimble Ion Chambers
Solid State Detectors
Calibration
and Other Calibration Services
When a dosimetry system is purchased through CNMC, we will schedule the calibration at one of the AAPM ADCL (Accredited Dosimetry Calibration Laboratory) facilities.  This insures that your system will be delivered to you ready for use.
When your dosimetry system is being scheduled through CNMC for recalibration, we will thoroughly inspect the dosimeter and the ionization chamber and report on any conditions requiring attention.  This service is provide to you at no additional charges.
CNMC will send your equipment through on of the following Accredited Dosimetry Calibration Laboratories:
K&S Associates, Inc.
University of Texas MD Anderson Cancer Center
University of Wisconsin
Services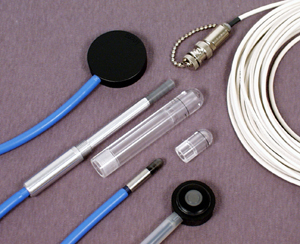 Dosimeter Modification
Keithley 602 modifications include:
The installation 150/300V electronic bias supply with reversible polarity.
Replacement of the analog meter with a 4.5 digit LCD.
Installation of a single 12V rechargeable battery with a wall-mount UL-listed transformer/charger.
Installation of circuitry to allow bias voltage and battery condition to be read on the display.
Similarly, CNMC can modify and improve your other dosimeters, which includes replacing bias batteries with ±300V, ±150V electronic bias supply and converting the input connector to BNC or TNC.
Dosimeter Repair
CNMC can generally repair and significantly improve your dosimeter/electrometer regardless of its manufacturer.  Repairs at ½ the cost and/or ½ the time are common at CNMC.
Ion Chamber Modification
Includes thimble, waterproof, plane-parallel, extrapolation and diode detectors of any manufacturer.  Modifications include:
Conversion of any style of connector.
Shortening the cable.
Farmer thimble (non-waterproof) conversion from 0.6cc to 0.2cc, to acrylic, graphite or Solid Water™ chambers.
Ion Chamber Repair
Same day repairs are possible at CNMC; typical chamber repairs include:
Thimble replacement (non-waterproof types).
Connector repair or replacement.
Correcting leakage condition.
Resheathing waterproof ion chambers.
Triaxial/Coaxial Cable Repair & Modification
CNMC manufactures low-noise triaxial and coaxial cables per your specifications with connectors of your choice and custom lengths.  CNMC will repair and modify your extension cable.  Repair and modification includes:
Connector repair or replacement.
Conversion of any style of connector (BNC, TNC, PET, PTW, MDH, etc.).
Installation in a wind-up reel.
AAPM ADCL Calibration
When scheduled through CNMC, we will thoroughly inspect dosimeter and ionization chamber and report on conditions requiring attention.