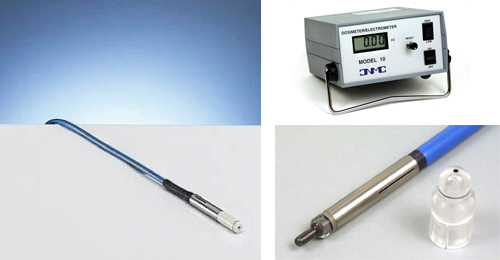 Radiation Physics
Please click the product you want to learn more about:
Electrometers
Plane Parallel Ionization Chambers
Thimble Ion Chambers
Solid State Detectors
Calibration
and Other Calibration Services
When a dosimetry system is purchased through CNMC, we will schedule the calibration at one of the AAPM ADCL (Accredited Dosimetry Calibration Laboratory) facilities.  This insures that your system will be delivered to you ready for use.
When your dosimetry system is being scheduled through CNMC for recalibration, we will thoroughly inspect the dosimeter and the ionization chamber and report on any conditions requiring attention.  This service is provide to you at no additional charges.
CNMC will send your equipment through on of the following Accredited Dosimetry Calibration Laboratories:
K&S Associates, Inc.
University of Texas MD Anderson Cancer Center
University of Wisconsin
Services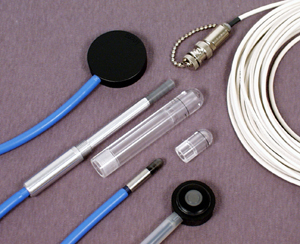 Dosimeter Modification
Keithley 602 modifications include:
The installation 150/300V electronic bias supply with reversible polarity.
Replacement of the analog meter with a 4.5 digit LCD.
Installation of a single 12V rechargeable battery with a wall-mount UL-listed transformer/charger.
Installation of circuitry to allow bias voltage and battery condition to be read on the display.
Similarly, CNMC can modify and improve your other dosimeters, which includes replacing bias batteries with ±300V, ±150V electronic bias supply and converting the input connector to BNC or TNC.
Dosimeter Repair
CNMC can generally repair and significantly improve your dosimeter/electrometer regardless of its manufacturer.  Repairs at ½ the cost and/or ½ the time are common at CNMC.
Ion Chamber Modification
Includes thimble, waterproof, plane-parallel, extrapolation and diode detectors of any manufacturer.  Modifications include:
Conversion of any style of connector.
Shortening the cable.
Farmer thimble (non-waterproof) conversion from 0.6cc to 0.2cc, to acrylic, graphite or Solid Water™ chambers.
Ion Chamber Repair
Same day repairs are possible at CNMC; typical chamber repairs include:
Thimble replacement (non-waterproof types).
Connector repair or replacement.
Correcting leakage condition.
Resheathing waterproof ion chambers.
Triaxial/Coaxial Cable Repair & Modification
CNMC manufactures low-noise triaxial and coaxial cables per your specifications with connectors of your choice and custom lengths.  CNMC will repair and modify your extension cable.  Repair and modification includes:
Connector repair or replacement.
Conversion of any style of connector (BNC, TNC, PET, PTW, MDH, etc.).
Installation in a wind-up reel.
AAPM ADCL Calibration
When scheduled through CNMC, we will thoroughly inspect dosimeter and ionization chamber and report on conditions requiring attention.